COVID-19 pandemic has forced us to stay at home. All the major global activities have been shut down and at least I was dying to watch some football. Although sports is easing its way back to the normal, It. is. just. not. the. same. without. fans. in. the. stadium.
Different teams have tried different ways to get that experience but it is just not the same. From cardboard fans to fake fan chants to Sex dolls. Oh yeah, you read that right. Some miscommunication has led to Sex dolls as fans in the stadium. But the times have changed, right? we're living in the "Black Mirror" times. I'm sorry if you don't get the reference. Well not really, just go watch it!
A Danish club uses Zoom as fans attend games virtually but in real-time. It's here! It is happening! On Thursday, Denmark one-upped neighbors Germany as the Superliga returned to action in front of thousands of live fans. A large videoconference at AGF Aarhus's stadium meant that the footballers had a gameday atmosphere, and the spectators had a Zoom with a view.
And when the hosts scored a 92nd-minute equalizer against opponents Randers FC, Ceres Park rang with cheers. The stands remain empty, but the club says thousands of faces will continue to flicker across the three giant screens — the world's first 'virtual grandstand'.
"I imagine you also have been getting used to video meetings, working from home and using Zoom technology?" laughs AGF's head of media, Soren Carlsen. "We tried to use that technology to create a community around the game for our fans who are our family. It was a great success and we look forward to continuing it this Monday."
"There were 10,000 links, but the number of viewers was a lot more because people attended the match in groups. The tickets however were free of charge. We didn't think it was right to charge our fans. It's not their fault that they can't come to the game. There were some costs for the big screen and other technical stuff, and we put in a lot of hours. We had a lot of extra people working on the project. But we would like to put that investment into our fans," says Carlsen.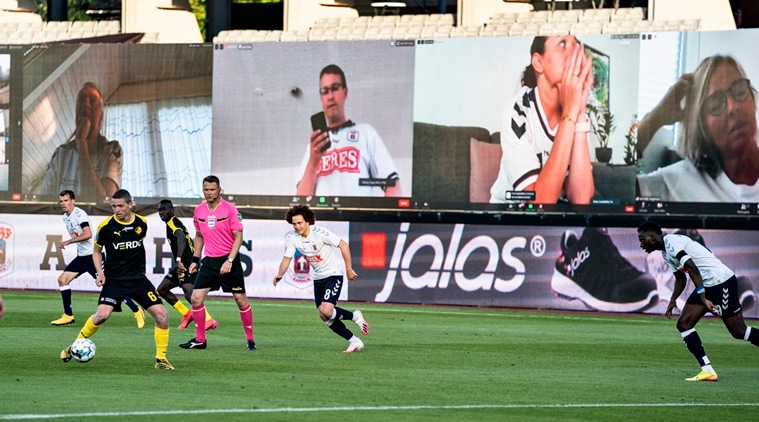 The board, that ran along one side of the field, could fit 200 fans' faces at once. Fifty moderators toggled between different faces to display on the screen, and also had to remain vigilant to any rude gatecrashers.
"That was also one of the conditions from the Zoom guys. It's an American company, so they needed that we have some very strict protocols. I'm proud to say we only had two people who were kicked out," says Carlsen, adding: "They were showing some parts of the body you're not supposed to show."